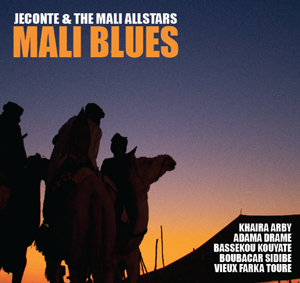 Tracks List:
Kamelenba (The Play Boy)
Toumouranke (The Traveler)
Nous Aimons Le Mali (We Love Mali)
Le Monde Pour La Paix (The World for Peace)
Laido (The Promise)
Wariko (Money Matters)
Aujourd'hui Demain (Today Tomorrow)
Bamako Blues (Blues of Bamako)
Toumassebali (Time is Not)
Kolonkisse (Cowries)
Malien Fo Gne (Tell me about Malians)
Delta Niger (Niger Delta)

JeConte & the Mali Allstars

To understand the story of Mali Blues, the debut album by JeConte & The Mali Allstars, one must understand the current turmoil and difficulties taking place in Mali. Life in Mali, West Africa, is no longer what it once was, where music and tourism echoed through the streets and reigned supreme. Tourism has virtually dried up and the musicians of Mali can no longer make a living like they once could. Even though the fighting has 'officially' stopped, militants are still at large in the region's villages, as evidenced by recent attempted suicide bombings to the North of Gao, and Timbuktu.

It is clear that Mali is still vulnerable and it is her people who are suffering the most. Mali played little role in the defeat of the militants on its own turf, and the country remains incapable of defending or reconstructing itself. Elections, which are expected at the end of July, are shadowed by the influence of coup leaders, and the country is indeed in a fragile state. The ethnic lines of Tuareg and Griot are presently fractured beyond repair and it will be difficult for Mali to regain her former strength, as over 400,000 of her people are still in exile, suffering in refugee camps.

The goal of Mali Blues is to build awareness for the music, and people, of Mali, donating a percentage of proceeds to JeConte's non-profit soulnow.org (Save Our Universal Language Now). SOULNOW.ORG works with cultures to help preserve their musical heritage and our first initiative is to help Madam Souadou Diabate, Toumani Diabate's sister, who runs the 'Futbol Center for Hope' in Begnuieda Mali, south of Bamako, with much needed resources. A FIFA sponsored community center for over 1500 young women, the center gives them a foundation for better health and living by teaching them life skills, while also training for Futbol. Partnered with 'One World Futbol' our goal is to raise funds to help expand the center and bring 1000's of indestructible 'One World Futbols' to Mali.

The album was captured in Bamako, Mali at Yeelen Studios during the 2012 coup d'etat. The sessions feature West African heavyweights Khaira Arby, Adama Dramé, Bassekou Kouyate, Boubacar Sidibé, & Vieux Farka Touré, collaborating with Northern California/New Orleans livewire JeConte in an exciting border crossing musical exploration. The album delivers hypnotically soulful tunes that merge West African rhythms, reggae strains and Afropop grooves with seductive New Orleans blues and earthy California rock music.

The featured track 'Le Monde pour la Paix' has Vieux Farka Touré reaching deep, pleading to his ancestry to bring the people of Mali together, for the future of Mali and her children. It also features n'goni master Bassekou Kouyate creating amazing, hypnotic rhythms and Khaira Arby, the Tuareg Chantress of Timbuktu, calling for peace and unity for all the tribes of Mali, that they come together for the good of all, for the future of her beloved Mali.

The nucleus of Mali Blues is blues-rock singer-harmonica player JeConte, singer-songwriter-harmonica player Boubacar Sidibé and singer-songwriter-electric guitar virtuoso Adama Dramé. The three met in Timbuktu, Mali at the renowned Festival in the Desert in 2010, and soon the trio began to create an original style of blues that strikes to the heart of foundational, soulful blues, a sound redolent of the genre's Motherland origins, as well as the fragrant American evolution.

As a full band, the trio leads a roaring group that includes Mamadou Kone (Bamada) on percussion and talking drum, Sekou Bah (Oumou Sangaré) on bass, and Souleymane Ann (Bamada) on drums, who weave deep West Africa rhythms and seductive improvisational bass and drums into songs that hum with the hardship and experience of this unique land, dappled with echoes from across the ocean.